Statement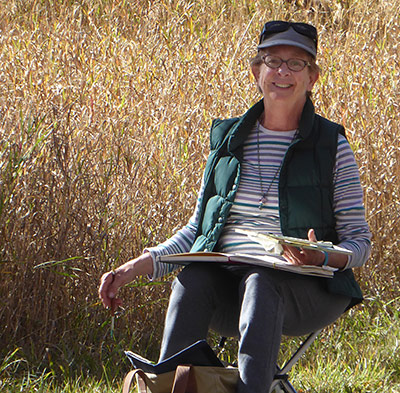 I meld my dual love of art and nature to create paintings, ceramic tile murals, and artist's books. I begin the creative process by going afield with my nature journal and sketchbooks, directly observing nature in all its variety and surprises. The plein air sketching and writing gives me a true sense of the spirit of a place, in addition to fueling my studio work.
In my studio, I choose the medium and technique that best expresses my feelings for the subject: Watercolor, acrylic and pencil may combine with papers, fabrics, and thread as collages. Paper may be cut, embellished and folded as a unique artist book. The rich colors and glistening surface of ceramic tiles are suitable for public art or residential commissions where durability is a factor. I bring my love of the natural world to all of these projects.
I received my BFA in art education at the University of Arizona, and have lived in New Mexico for 45 years. In addition to exhibiting my original fine art throughout the U.S., I have illustrated several books, been included in public art collections, and provided artwork for museum exhibits.